Quick post – caveat haven't had a chance to proof read this one and its late so it will have to do for now!
You may not be aware that you can use a Playstation 3 to act as a media streaming/playback client using a system called DNLA (also known as uPNP). This allows you to view content on your computer on your main TV in HD. Windows Media Player can act as the "Server" portion but its not ideal for connecting to the Playstation.
Crude diagram here, might expand this with my full setup when I get a chance: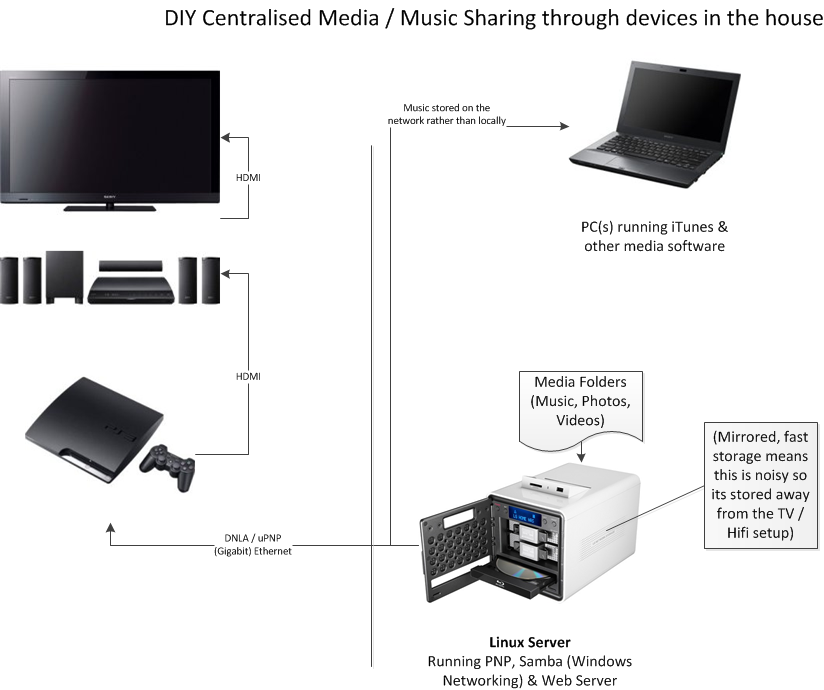 I have been trying to get this working for a while. Essentially the plan is to get access to downloaded videos, videos from my camcorder (now HD) to save burning it to DVD or Blu-Ray and also access my photos and music collection from my Ubuntu Linux server that holds all my content (on a RAID 1 mirrored disk setup) to my TV and home cinema/HiFi setup.
Last time I tried to use a small command line utility and my PS3 was only connected via Wireless to the Server – the result was stuttering music let alone videos. So its something I gave up on for the time being.
Recently I have been able to overcome this as I have discovered flat gigabit ethernet cables that I can run out of my double glazed windows (even when shut!) so I have hacked a gigabit backbone that connects my TV and AV kit (including PS3) to my Linux Server (in fact the very one that served this blog page to you) that hold gigabytes of multimedia (now there's a word you don't hear much these days!)
Also discovered http://code.google.com/p/ps3mediaserver/ which is a great Java based server component for PNP based streaming – as the name suggests its specifically designed for connecting the PS3 up to content…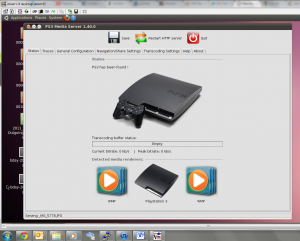 Hey presto excellent quality video (including 1080p video) and music on the TV / HiFi!
Next to work out how to get my iTunes (stuff that only plays on iTunes rather than MP3s) music across and available to the PS3. I have moved and shared the my iTunes media folder (as have that on the network too – as per these instructions – http://lifehacker.com/230605/hack-attack-share-your-itunes-music-library-over-your-home-network - so I can re-use iTunes across different machines – and keep it backed up).