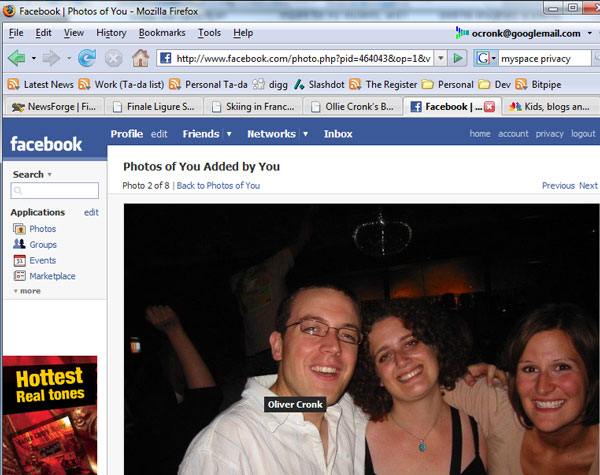 Heres a random thought pattern I had today – could Internet content one day be used a massive database for Artificial intelligence? Sure Google search or Wikipedia could provide facts etc but what about tagging friends on Facebook? In the future could a computer based system start to identify who people are in real life from this? (Think Terminator!)
I am aware that there is already face recognition on devices such as web cams (that can track your movements around the room for example) and also for CCTV systems (back at Essex Uni I was told about a research project for a system that could identify known thieves and track them through retail stores). But I am thinking more about an AI system using the richer content that is coming online to connect more stuff together. Also on this thought pattern is a reoccuring thought pattern that I've had since Uni and learning about Object Orientated Programming and Database relationships – representing the world as structured objects in a Virtual Reality type application (think Second life combined with Google Earth / 3D Live Maps and real world data on everything).
There is also a more real and here and now threat from this – the erosion of privacy which is obviously a topic of concern at the moment as a downside to all this Web 2.0 / community site shenanigans. So more likely is the fact that unfriendly strangers could use this information and photos to find you / scam you etc.