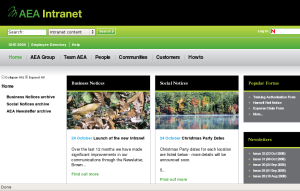 Today we put live the new Intranet at AEA which has been Kat's major project (should get to spend more time with her now its launched!) with some support from me and impressive efforts from the dev team.
Previously we had a static HTML Intranet which wasn't really serving the needs of the business as well as it could. The new site is based on the AEA Framework – which I've blogged about a bit before. Essentially an extension of the Zend Framework glueing Silverstripe and other 3rd party components together with a single sign on approach (in this case we are also using LDAP to do logins from our current Novell infrastructure). We built on our HTML content crawler tool to hoover in the static HTML into the Content Management System.
Over time we will leverage the framework to create more efficient web 2.0 style business processes and work with PPC to combine it with other off the shelf tools that they specialise in; and hopefully push it globally across the group…
I've also had some exciting news this week which I will share when I can.
All exciting stuff!