Wow what an experience the RideLondon-Surrey 100 was! Riding on  closed roads was such a blast. Completed the course in a much quicker time than I expected – 5 hours 3 minutes!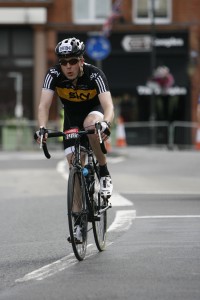 Full pictures: http://flickr.com/gp/67554089@N00/g5ShR5/
I am very appreciative of the support that colleagues, friends and family have given me for my BHF charity fundraising. My fundraising total now stands at £532 so thank you. UPDATE: with work match funding the final total was over £1000 🙂
Some observations are as follows:
Generally really well organized, although there was a lot of moaning online about various things – like having to pre-register the days before the event etc. But I guess that is to be expected.
Quite a few people were waiting just after the depart fictif (where the waves were released but not actually timed from – that was 2 miles down the road) I guess for their friends or club mates to they could ride as a group.
I underestimated how effective my training would be and/or the effect of riding as a big group – when I originally entered I put myself down as 6hr30 but completed in just over 5hrs.
Make better use of the baggage drop off and pick up – put a change of clothes and shoes in the bag so once finished you can take advantage of the changing tents etc
There was a real split of riders wanting to complete in a fast time versus take in the ambience and not taking it (or their training/preparation) too seriously. As a result there was a bit of a conflict in latter waves (I was in wave G) as you had slower riders and people like myself trying to ride as efficiently and fast as possible by avoiding braking, cornering wide using a racing line and descending quickly. Many riders stuck to the left (ingrained in everyone from riding on public roads when open!) – in some respects this was a good thing as it allowed faster riders to overtake down the right side – but it did mean many were braking too much and having to pedal after the corners to get back up to speed.
I think due to the last point they should ask you how seriously you will be taking the ride – will you be plodding around or taking full advantage of the closed roads (and have experience of riding in larger groups) so these groups of riders can be better separated from the start.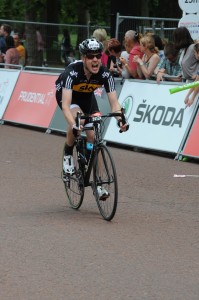 Sprinting down the mall at the end was such a buzz (although as you can see from my face I dug deep!), in fact I had such an endorphin high most of the ride to the point that I was getting quite emotional – had to calm myself down on many occasions!
Not sure how folks did it in just over 4 hours – did they not stop at all for water? I am guessing not!
For those who want to see more data on my ride:
Strava: http://app.strava.com/activities/72194864
Official Stats: http://bit.ly/cronkyrl
And there is of course still time to donate to BHF!!! http://www.justgiving.com/olivercronk
Nice Article from the Guardian on the RideLondon weekend and general observations relating to cycling:
http://www.theguardian.com/environment/bike-blog/2013/aug/06/cycling-ridelondon-100-ten-thoughts