October 23, 2010
Recently changed the server this blog runs on to a low power Dual Core Intel Atom in a smaller form factor case (mini ITX). In an attempt to reduce my environmental and electricity footprint. Took the opportunity to upgrade Ubuntu Server to 10.04 LTS which comes with MySQL 5.1 and WordPress is now 3.0.1 ( which was a very easy upgrade – one click from within the web based admin – well done WordPress team for that!).
The Dual Core Opteron box this blog used to run on will now only be powered up when I am experimenting with Server Operating systems (will be re-built as VMware ESX host).
Getting in some IT geekery before my life gets turned upside down!
December 15, 2008
Have just upgraded to the latest and greatest WordPress and was shocked as it has wowed me again in terms of user interface. The pace of improvement of this Open Source product is incredible. Just as I think wouldn't it be good if… they've done it in the next release (and improved stability / fixed bugs).
They've introduced a turbo button which makes use of Google Gears (the offline/browser enchancement) and added more time saving shortcuts and a better post writing interface (particularly for re-using existing tags on new posts – this UI for tagging taxonomy might have to be borrowed on some of my projects…) Read their blog post here for more info on features (includes a video).
Below is the new dashboard – compare the below to WordPress 2.5 that I upgraded to back in May 08
The new dashboard is below – it now has dragable "modules"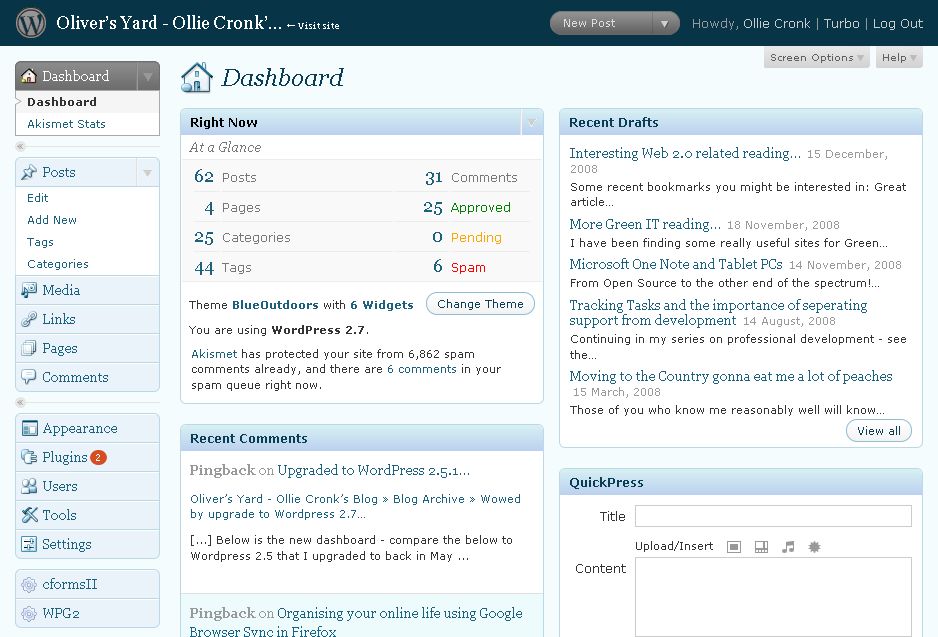 Trouble is it now makes me want to upgrade the design of my blog – but I know I have way more important things to do with my time before I faff with that again!
May 02, 2008
This blog is now running the latest version of WordPress which offers an overhauled admin area one of the first enhancements you notice is a nice new dashboard with metrics.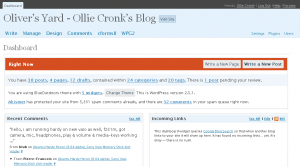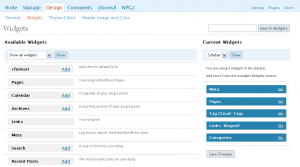 I've discovered the dynamic sidebar (which allows widgets to be added using the visual admin interface rather than editing code in the template files) and switched on the tags widget in this version (I've been tagging articles for a while they've just never shown up). See the bottom screenshot – what you can't see is the nice drag and drop re-ordering of the widgets in the sidebar.
Some playing around was needed to get the tags looking reasonable in the sidebar. By default tags are just rendered in text or flat mode. However by changing the line 1362 in widgets.php from
wp_tag_cloud();
to:
wp_tag_cloud($args = array('format' => 'list'));
The tag cloud will then render as a HTML list which looks a bit better (until I can get around to doing some styling and turn it into a true tag cloud – where the tag words get bigger the more popular they are).