January 03, 2012
Filed Under (
Technology
) by Ollie Cronk on 03-01-2012
Its been a while since I've posted one of my Tech discoveries so this will cover quite a bit…
Originally wrote this back in April 2011! Being a dad doesn't allow much time for blogging! In fact I am tempted to shut down this blog (given my usage of twitter, linkedin and FB means it gets less of a look in these days) – or move it to the cloud…
Good Stuff
Sony Vaio SA Core i7 laptop – will post a separate review in due course, but this is a really nice machine for Windows 7 (and running a couple of other OS via VirtualBox!) upped mine to 8GB RAM – amazingly quick, small, light and very good battery life on stamina (only downside – can be a but noisy / hot in speed mode under load).
Flat Ethernet cables – awesome – see my other post about home AV setup – but they are great for running under carpet, laminate through closed (and locked) window openings!).
Google Chrome Browser – very fast (makes even Firefox feel sluggish, and IE is distinctly snail like in comparision), robust and now it has plugins its great – my main browser at home.
Blackberry Bold – call me a luddite (and behind the times given the recent down with RIM news that is all over the media) but I like a good straightforward work phone, no touchscreen just a plain old qwerty keypad for quickly typing out emails and texts and amazing battery life. Oh ok so yes I wouldn't say no if work offered me an Iphone instead…!
Amazon selling laptop batteries for £20 – with the SSD drive and upgrade to Win7 my 4 year old Vaio  is running really well (update – well it was! Its now been replaced with an SA Series Vaio – now gets used when the daughter is around and don't want to risk the new one getting attacked!).
HP Elitebook laptops – have had a Tablet and a 14″ laptop and both have been excellent. I will be disappointed if HP do drop their PC line – they do some good (if perhaps a little bulky by today's standards) kit.
Bad
Going back to XP and Office 2003 at work, although I have now managed to get up to 2007 which is a relief! Windows 7 should come later in the year fingers crossed!
SSD Hybrid hard disk drive – good idea in principle but needs to mature a bit (friend had one fail on him with medium term use, might have just been a dodgy one though).
November 09, 2011
Quick post – caveat haven't had a chance to proof read this one and its late so it will have to do for now!
You may not be aware that you can use a Playstation 3 to act as a media streaming/playback client using a system called DNLA (also known as uPNP). This allows you to view content on your computer on your main TV in HD. Windows Media Player can act as the "Server" portion but its not ideal for connecting to the Playstation.
Crude diagram here, might expand this with my full setup when I get a chance: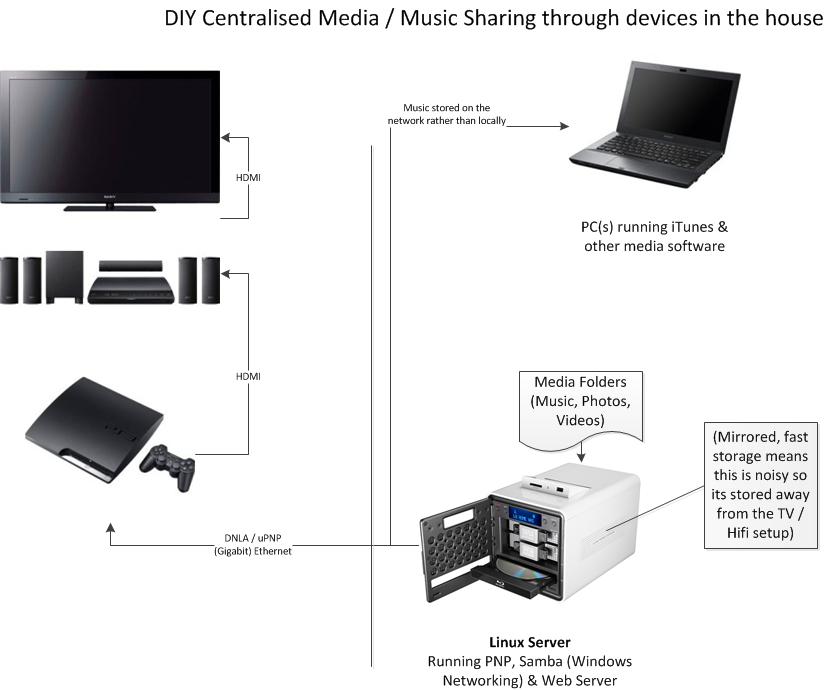 I have been trying to get this working for a while. Essentially the plan is to get access to downloaded videos, videos from my camcorder (now HD) to save burning it to DVD or Blu-Ray and also access my photos and music collection from my Ubuntu Linux server that holds all my content (on a RAID 1 mirrored disk setup) to my TV and home cinema/HiFi setup.
Last time I tried to use a small command line utility and my PS3 was only connected via Wireless to the Server – the result was stuttering music let alone videos. So its something I gave up on for the time being.
Recently I have been able to overcome this as I have discovered flat gigabit ethernet cables that I can run out of my double glazed windows (even when shut!) so I have hacked a gigabit backbone that connects my TV and AV kit (including PS3) to my Linux Server (in fact the very one that served this blog page to you) that hold gigabytes of multimedia (now there's a word you don't hear much these days!)
Also discovered http://code.google.com/p/ps3mediaserver/ which is a great Java based server component for PNP based streaming – as the name suggests its specifically designed for connecting the PS3 up to content…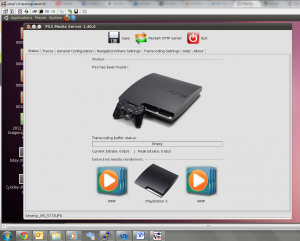 Hey presto excellent quality video (including 1080p video) and music on the TV / HiFi!
Next to work out how to get my iTunes (stuff that only plays on iTunes rather than MP3s) music across and available to the PS3. I have moved and shared the my iTunes media folder (as have that on the network too – as per these instructions – http://lifehacker.com/230605/hack-attack-share-your-itunes-music-library-over-your-home-network – so I can re-use iTunes across different machines – and keep it backed up).
June 30, 2009
One of my better recent shots taken on the SLR:
Taken on a recent bike ride to Donnington and Bagnor
Info on Donnington Castle here and here on Wikipedia
August 26, 2008
Busy at work (lots of EU related stuff at the moment) and have now got some new toys including a PS3 80GB (one with the dual shock rumble pad) – so don't expect many posts in the near future!!
I'm sure I'll get the blogging bug again before too long………