January 03, 2012
Filed Under (
Technology
) by Ollie Cronk on 03-01-2012
Its been a while since I've posted one of my Tech discoveries so this will cover quite a bit…
Originally wrote this back in April 2011! Being a dad doesn't allow much time for blogging! In fact I am tempted to shut down this blog (given my usage of twitter, linkedin and FB means it gets less of a look in these days) – or move it to the cloud…
Good Stuff
Sony Vaio SA Core i7 laptop – will post a separate review in due course, but this is a really nice machine for Windows 7 (and running a couple of other OS via VirtualBox!) upped mine to 8GB RAM – amazingly quick, small, light and very good battery life on stamina (only downside – can be a but noisy / hot in speed mode under load).
Flat Ethernet cables – awesome – see my other post about home AV setup – but they are great for running under carpet, laminate through closed (and locked) window openings!).
Google Chrome Browser – very fast (makes even Firefox feel sluggish, and IE is distinctly snail like in comparision), robust and now it has plugins its great – my main browser at home.
Blackberry Bold – call me a luddite (and behind the times given the recent down with RIM news that is all over the media) but I like a good straightforward work phone, no touchscreen just a plain old qwerty keypad for quickly typing out emails and texts and amazing battery life. Oh ok so yes I wouldn't say no if work offered me an Iphone instead…!
Amazon selling laptop batteries for £20 – with the SSD drive and upgrade to Win7 my 4 year old Vaio  is running really well (update – well it was! Its now been replaced with an SA Series Vaio – now gets used when the daughter is around and don't want to risk the new one getting attacked!).
HP Elitebook laptops – have had a Tablet and a 14″ laptop and both have been excellent. I will be disappointed if HP do drop their PC line – they do some good (if perhaps a little bulky by today's standards) kit.
Bad
Going back to XP and Office 2003 at work, although I have now managed to get up to 2007 which is a relief! Windows 7 should come later in the year fingers crossed!
SSD Hybrid hard disk drive – good idea in principle but needs to mature a bit (friend had one fail on him with medium term use, might have just been a dodgy one though).
May 17, 2009
One of my projects at the moment is to look at our options for building SMS enabled web applications (specifically for us around our Zend Framework based apps). Both for data capture (Inbound) and as an alerting / notification system (Outbound).
Thought I'd pull together some of my thoughts and reference material [not exhaustive or complete yet] in case its of use to anyone else in a similar situation. But first I'd like to thank my good friend Jem who helped identify some different angles on this…
Research Material:
As always the first place to start is Google and Wikipedia – http://en.wikipedia.org/wiki/SMS and http://en.wikipedia.org/wiki/SMS_gateways

LinkedIn Q&A is a great reference – here are a few relevant threads that I came across (you'll probably need a Linkedin.com account to get to these) there are lots more if you search around with SMS related keywords.

Implementation Options:
There are 2 main options – and as always its the struggle between D.I.Y and DRY (Don't Repeat Yourself – or my version DRY-OFF – DRY or others [for f sake? I just wanted it to be OFF as it sounded better; anyway I'll shut up now!])
Roll your own
The Kannel FAQ covers this point quite well – http://www.kannel.org/faq.shtml#1.2
pros – complete control over messaging and ability to iron out any kinks in connectivity etc, potentially cheaper to run / only costs you what you use (rather than having to buy credits)
cons – more complex to setup in the first place, need to buy & setup some hardware somewhere etc
Useful article on Kannel on Ubuntu with PHP5: http://www.chipmunkninja.com/Setting-up-Configuring-and-Using-13@
Outsourced
Pros – ease of getting it up and running if the integration API (eg HTTP, XML/E-mail based) is easy to pick up
Cons  – my concern around these guys is how do you how good they are – will they disappear tomorrow? What gateways are they using, how reliable are their channels etc.
Guide to Gateways (US focused) but has some nice general considerations) http://www.developershome.com/sms/howToChooseSMSGateway.asp This site also has a really nice comparison table – which you could also use as a template for doing your own matrix/scoring comparisions of these services.
We will probably go with a combination of the 2 options – using our own system for the development of services (as we have greater control) and then making use of a partner once the message volumes go above what is finanically viable/scalable in house…
Once the technical bit is out of the way you then need to consider the usability and process flow around the app – eg if users are sending in data, queuing, acknowledging their submissions, correcting mistakes etc…
Hope to post more on this topic if I get the opportunity! If anyone has any insights or good resources on this topic then by all means please comment on this post!
Thanks
July 17, 2008
…is brilliant, miles better than the standard Web Browser, although still not quite on a par with the iPhone (but then half the magic of that is the touch screen interface). Very fast and displays pages like a standard desktop browser, but the killer feature is that it allows you to see the whole website in a zoomed out view allowing you can click to zoom in/out and then move around the page really easily. Also has a handy bookmarks sync feature (where you can enter URLs online using your desktop browser for use later on the phone).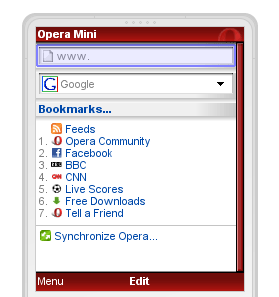 Grab it from http://mini.opera.com (using the standard browser on the phone). You can also check out a demo on PC here: http://www.operamini.com/demo/. This is also available for other devices other than BlackBerrys.
Getting the Wifi to work can be a bit fiddly (not the initial Wifi Connection but getting the device to use the WLAN rather than the GPRS). Look for options along the lines of "Prefer Wifi" in the phone settings menus.
Opera Mini behaves much better in this respect than the standard browser.
Was also very pleased to discover that I could buy a Sandisk 2GB microSD memory card for my BlackBerry for £6 on play.com! Brilliant deal! Also discovered that Sandisk do a really cool SD card that folds in half to allow it slot into your USB port so that has joined my gadget collection too!
July 07, 2008
Those of you are lucky(?!) enough to know me will know that I love a good gadget or 20. I took the plunge recently and bought myself some Oakleys with prescription lenses – some Livestrong Flak Jacket XLJ's. The reason I've been wanting to get some (Oakley's) for the last 5 or so years is for my cycling and skiing but haven't got any because they are so damn expensive with prescription lenses in (about double the price standard price of Oakleys!). Of course it rains the whole weekend that I get them so I have yet to really wear them in anger…
One thing to note about prescription lenses in Oakleys is that they aren't thinned (I've got thinned lenses in my regular glasses over the last few years as I've started getting more short sighted) so the lenses are quite thick. But they are wrap around so you get the feeling you can properly see (including peripheral vision) again (like wearing contacts – but I never got on with those). I'll try and remember to take a picture for comparison next time I am with my 20:20 vision cycling mates.
Blackberry – aka "Crackberry" – as my former colleagues at 7city used to call them – as in they are addictive : – )

Work have been kind enough to ease my email (and keeping an eye on things) burden with a Blackberry 8820 which is nice. Has Wifi which is pretty useful. No doubt I'll be posting some Blackberry related posts soon…