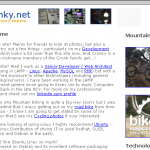 I've been thinking about ditching my old HTML based website for a while now as its seriously out of date (parts of it where quite embarrassing – comments from almost 10 years ago when I seemed to be very opinionated about random stuff) and I am really pleased with WordPress. So this blog is now my main presence on the web.
Quite amused by this bit of blog spam:
A new comment on the post #47 "Work on the real Oliver's Yard is underway!" is waiting for your approval

Author : Gordon Brown (IP: 90.207.167.2xx , 5acfa7xx.bb.sky.com) E-mail : gordon.brown@number-ten.gov.uk
URL : http://www.the-prime-minister.gov.uk

Comment:
Oli, I love your blog, so enlightening. One complaint – it has been over a year and STILL NO F***ING TREES – WHERE ARE THE TREES?
Sometimes its difficult to know whether this is someone messing about or Spam!